FOUNDING ATTORNEY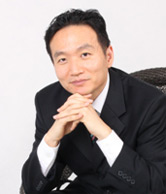 Oscar Yang is a businessman-turned lawyer. Through his career, Oscar Yang has deepened his business acumen in different areas: strategy consulting, M&A banking, business development, strategic marketing, and financial planning. For instance, he completed business projects for leading companies such as Samsung Electronics, Hewlett Packard, ING Investment Bank, Arthur D. Little, Silicon Image, and Merrill Lynch. The companies range from a Silicon Valley company of $50M annual revenue to a global multinational technology company of $200B annual sales. For the last several years, Oscar Yang has been a disciple to Prof. Chan Kim, one of the top five business thinkers in the world who has invented Blue Ocean Strategy.  In January 2011, Oscar Yang started Silicon Berry LLC initially as a pure strategy consulting firm and completed multiple projects in IT, music, consumer goods, and game industries.  Silicon Berry gradually has turned into a Washington-based incubator of two small businesses in education and entertainment.
While deepening the business acumen, Oscar Yang became exposed to the practice of litigation for the first time when he was an extern law clerk for the Institute for Justice, a national public interest litigation firm, in 2008.  He often sees a meaningful impact that a successful litigation effort can make on lives of people. He also believes that an attorney should not be afraid of fighting for the best interests of his or her clients.  As a result, even though his law practice initially dealt with transactional matters only, his practice recently has progressed towards the mixture of dispute resolutions and transactions.
Oscar Yang has a B.A. in chemistry from Dartmouth College, a J.D. in business law from Cornell University, an M.B.A. in strategy from INSEAD (Fontainebleau) and an M.P.P. in international finance from Harvard University. He has been admitted to practice law in New York since 2009 and in Washington since 2012. He is also a member of Business Law Section, Real Property Section, and Creditor-Debtor Section of the Washington State Bar Association as well as a member of Washington Employment Lawyers Association.
Certified Seminar Attendance

Real Estate Law
04/14/2017: "PBS HJP: Tenants Living in Foreclosed Properties"
04/14/2017: "Construction Law: What do You do When…?"
03/10/2017: "The Impact of Judgements and Consumer Law on Eviction Cases"
12/12 – 12/13/2016: "Surveys, Plats, Historical Records, Legal Descriptions and Title Insurance"
10/20/2016: "Negotiating Contracts on Tribal Lands"
07/14/2016: "Boundary Law from Start to Finish"
06/07/2016: "Real Estate Litigation in Washington"
04/19/2016: "Troubleshooting Construction Project Legal Issues"
04/02/2016: "Buying and Selling Residential Real Estate"
11/09/2015: "Washington Foreclosures and Workouts"
11/05/2015: "Curing the Top Commercial Real Estate Title Defects"
08/14/2015: "Attorneys' Guide to Local Government Law"
06/01/2015: "Resolving Commercial Lease Disputes"
01/30/2015: "Advising Representing Low Income Tenants Eviction"
12/09/2014: "Environmental Liabilities in Real Estate Transaction"
12/08/2014: "Construction Defect Disputes & Litigation"
11/18/2014: "Title Law From Start to Finish"
11/05/2014: "Real Estate Foreclosure: A Step-by-Step Workshop"
10/01/2014: "Boundary Issues and Easement Law"
01/25/2013: "Real Estate Due Diligence"
01/07/2013: "The US Housing Crisis"
12/27/2012: "Negotiating and Managing the Short Sale"
Employment Law
03/07 – 03/08/2017: "Human Resource Law from A to Z"
12/05 – 12/06/2016: "Advanced Employment Law: What You Need to Know"
11/02/2016: "Human Resource Law: What You Need to Know Now"
10/21/2016: "Working with witnesses at all stages of litigation"
02/12/2016: "Wage Theft: Now and Looking Forward"
12/09/2015: "Advanced Employment Law"
03/11/2015: "Human Resource Law"
12/17/2014: "Advanced Employment Law: working through common problems"
08/27/2014: "Workers' Compensation: The Settlement Process and Hearings"
02/08/2013: "Immigration and Employment Law: I-9 Form Update"
Business Law
03/04/2017: "An Overview of Licensing Comic Book Properties to the Film and Television Industries"
09/19/2016: "Washington's Revised LLC Act: What You Need to Know"
08/30/2016: "Brewery and Distillery Law in Washington"
05/27/2016: "Pro Bono Services: Debt Collecting Process"
04/15/2016: "PBS: Debt Education Workshop"
04/07/2016: "The Comic Book Creator as Client"
12/15/2015: "LLC, S-Corp, C-Corp or Partnership"
12/08/2015: "Advanced Tax Exempt Organization Strategies"
10/27/2015: "Advanced Collection Law"
08/13/2015: "Top Complications in Bankruptcy"
06/19/2015: "Anatomy and Physiology 101 for Attorneys"
05/21/2015: "Top LLC Mistakes to Avoid in Everyday Business Practice"
04/27/2015: "Advanced Business Contracts"
04/21/2015: "Advising the New Tech Startup"
04/14/2015: "Startup: Financing & Ethical Consideration"
03/20/2015: "Washington Marijuana Law"
12/16/2014: "Partnership and Shareholder Disputes from Start to Finish"
10/09/2014: "Collection Law From Start to Finish"
09/26/2014: "Forensic Accounting 101 for Attorney's"
09/22/2014: "Drafting Workshop: LLC Operating Agreements"
09/10/2014: "Sales and Use Tax in Washington"
08/01/2014: "Chapter 7 and 13 Bankruptcy: Line-by-Line Workshop"
05/17/2013: "Around the World of Business Law"
04/16/2013: "New Business Lawyer Summit 2013"
02/25/2013: "Business Valuation, Controversies, & Recent Developments"
02/25/2014: "Keeping It Legal in Online Marketing"
01/07/2013: "Entrepreneur Law"
01/03/2013: "Tax Issues for Attorneys and Law Firms"
02/28/2013: "Entertainment Law 101"
Other Laws
Family Law
12/14-12/15/2016: "Family Law: What Do You Do When…?"
07/22/2016: "Discovery and Evidence in Divorce"
12/10/2015: "What Family Court Judges Want You to Know"
01/13 – 01/27/2015: "PBS Family Law Mentor Program, Susan Carroll, Mentor"
12/11/2014: "Family Law: Advanced Issues"
12/04/2014: "As Family Court Judges See It: Litigating Divorce"
07/30/2014: "Divorce Law: Common Mistakes in Dividing Assets"
07/13 – 07/14/2013: "Complex Assets in divorce"
Personal Injury Law
06/16/2017: "Damages in Personal Injury"
10/26/2016: "Insurance Bad Faith "Set Up" in Washington"
09/19/2014: "Litigating Slip, Trip and Fall Cases in Washington"
12/03/2013: "Personal Injury Law: Making Your Case"
Immigration Law
05/06/2013: "Section by Section Analysis of the Immigration Reform Bill"
03/22/2013: "2013 NW Regional Immigration Law Conference Day 2"
Others
02/10/2017: "Effectively Preserving Your Issues for Appeal"
04/29/2016: "Find it Free and Fast on the Net: Strategies for legal Research"
02/18/2016: "Learning from the Federal Bench – Judge Tallman: on Appeal"
02/18/2016: "How to Persuade Juries and Judges"
12/18/2015: "How to Get Your Social Media, Email and Text Evidence Admitted"
12/03/2015: "What Civil Court Judges Want You to Know"
11/07/2015: "Trial Advocacy – Mock Trial"
10/29/2015: "Representing Your Client in Federal Court"
10/23 – 10/24/2015: "Trial Advocacy Program – Seminar Only"
05/14/2015: "YLD CLE: Witness Preparation for Deposition & Trial"
05/08/2015: "What Appellate Court Judges Want You to Know"
04/23/2015: "May It Please the Court" – Effective Case presentation at Trial
01/26 – 02/02/2015: "Judson Falknor Appellate Advocacy Competition"
01/22/2015: "The Rules of Evidence: A Practical Toolkit"
12/19/2014: "Expert Witness: Using Washington Court Rules to your advantage"
12/15/2014: "Trusts 101"
12/10/2014: "Legal Ethics of Evidence"
11/17/2014: "Protecting Assets While Qualifying for Medicaid"
11/14/2014: "Representing Your Client in Federal Court"
11/07/2014: "As Judges See it: Top Mistakes Attorneys Make in Civil Litigation"
11/03/2014: "Moot Court – 1L Mock Trial Competition"
10/14 – 10/15/2014: "Probate Boot Camp 2014"
08/26/2014: "Revocable Living Trusts from Start to Finish"
08/25/2014: "Issues and Answers"
08/22/2014: "2014 Advanced Trial Tactics"
10/25 – 11/09/2013: "Trial Advocacy Program and Mock Trial"
02/28/2013: "Elimination of Bias in the Legal System"